Dog health and behavior problems?
DogHealth.com is here to help you provide the best care for your dog. We here at Dog Health want to provide you information on how you can help prevent disease, deal with problem behaviors, learn how to positively train your dog, and most important, help you give your dog a healthy, happy life.
Covering issues such as dog diseases, arthritis, dog care, dog training, dog grooming, dog behavior, and just plain how to have fun and play with your dog, DogHealth.com will help you answer your dog questions.
Important: if your dog is sick, do not hesitate to contact your veterinarian immediately! Your vet is skilled at properly caring for your dog. DogHealth.com is not a replacement for care by a veterinarian. It is only a resource for you to learn more about your dog's health.
---
Is It OK to Let Your Dog Lick Your Face?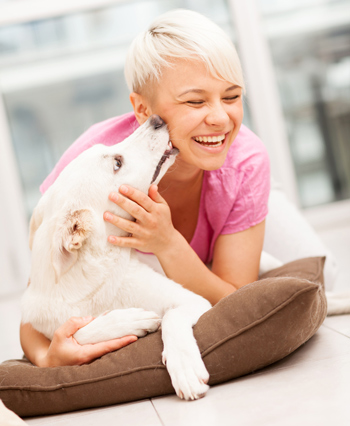 Does your dog lick your face? It's sweet, but is it healthy? Learn if dog kisses are safe.
Some Tips and Facts:
A dog's normal heartbeat is 100-150 per minute.
---
Featured Product:
Product Name:
Description:
Your pooch can leave the dog-run and head for the runway in this couture collar. Deck your doggy diva for special occasions or everyday wear, and your dog will be the envy of the pack.
Link:
---
---
---