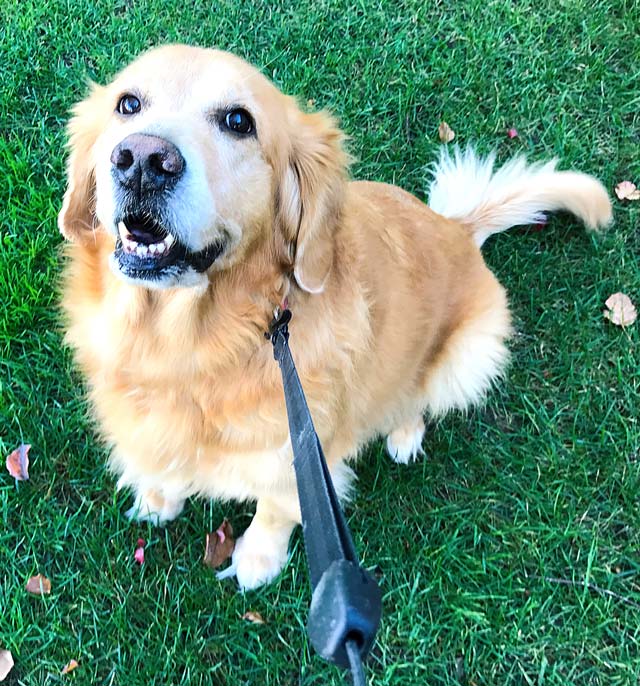 When you need to leave home for a little while, you might worry about your dog's care. You have several options, including taking your dog with you, leaving her at a boarding facility, or hiring an in-home dog sitter.
Options for Dog Care While You're Away
If you decide to take your dog with you, you will need to consider such things as how you will travel there, where you and your dog will stay once you arrive, and what type of preparation you will have to do to make sure your dog is ready to go. You can learn more about traveling with your dog here: "Traveling with Your Dog."
Rather than taking your dog with you, you might elect to leave her at a boarding facility. That way, she will have supervision, walks, and routine feeding and watering without the potential stress of traveling in a car or plane. You can find information on how to choose a good kennel here: "What to Look for In a Dog Boarding Facility."
A third option is for you to hire someone to come to your home to care for your dog while you are away. This might be a good option for dogs that dislike traveling, are nervous around strangers or dogs they don't know, or have medical conditions that require specialized care.
If you decide that an in-home dog sitter is the best option for you and your dog, we have some things for you to keep in mind while you are searching for the perfect one to hire.
Ask for Referrals
It can be quite helpful to ask your friends, family, and veterinary clinic staff for personal referrals to good dog sitters. When you do so, you will have the peace of mind of knowing that someone you know personally has previously used that person and had a good experience. Getting referrals in this way is a great place to start getting a list of potential dog sitters together.
Interview Potential Dog Sitters
Once you have a small list of potential dog sitters, contact each of them and set up an interview. If possible, bring your dog with you to the meeting or have the dog sitter come to your home for it. When you are able to talk with the potential sitter face-to-face, you can determine whether the two of you "click," and you can also see how your dog reacts to the person.
Here are some things to ask during your interview:
What is their experience and training with dogs?
Are they licensed (if licensure is required by your state), insured, and bonded?
Are they able to recognize signs of illness in dogs?
Can they take your dog to the vet if required?
What will their care schedule be for your dog?
Are they comfortable walking your dog, playing with her, and providing companionship while you're away?
What is their backup plan if they should experience an emergency that keeps them from caring for your dog while you are gone?
If your dog has specific behavioral or medical conditions, be sure to bring them up with the potential sitter at this time to gauge their familiarity and comfort level with dealing with them.
Other Tips for Using a Dog Sitter
Here are some further tips for having a great experience with a dog sitter:
If possible, hire the pet sitter for a short time at first. Do a trial run of two or three days to ensure that everything goes smoothly before scheduling a long trip.
Keep your dog's vaccinations and routine examinations up to date.
Leave clear, written instructions for your dog sitter every time you are away. Include feeding and watering amounts and times, information about treats, specific instructions about medications, and at least one contact number where the sitter can be sure to reach you. Have your sitter read the instructions and ask questions before you leave. Additionally, leave your sitter contact information for your regular veterinarian and local emergency vet.
Before you leave, contact your veterinarian's office, let them know the dates you'll be gone, and give them your pet sitter's name. If possible, make arrangements for your dog to be treated in your absence and verify with your veterinarian how and when you'll pay for the services. If you wish to allow your dog sitter or veterinarian to make medical decisions in the event you can't be reached, be sure you clearly communicate and find out if you need to sign anything ahead of time.
Leave more pet supplies than you believe your dog will need during the time you're away, so your dog sitter doesn't have to worry about running out.
Be sure your dog sitter has a key to your house, and consider leaving an extra one in a good hiding spot or with a neighbor, just in case the sitter loses theirs.
When possible, be sure to get on your sitter's schedule as early as possible, especially when you plan to travel during holidays. That way, you won't be left scrambling because his or her schedule is full.
You May Also Like These Articles:
How to Keep Your Dog Hydrated This Summer
How to Get the Most out of Your Sick Dog's Vet Visit
Minor Dog Injuries and Illnesses and What to Do
Caring for Your Dog After You're Gone
How to Choose a Good Dog Boarding Facility
How to Help a Dog with Anxiety
Notice: Ask-a-Vet is an affiliated service for those who wish to speak with a veterinary professional about their pet's specific condition. Initially, a bot will ask questions to determine the general nature of your concern. Then, you will be transferred to a human. There is a charge for the service if you choose to connect to a veterinarian. Ask-a-Vet is not manned by the staff or owners of DogHealth.com, and the advice given should not delay or replace a visit to your veterinarian.