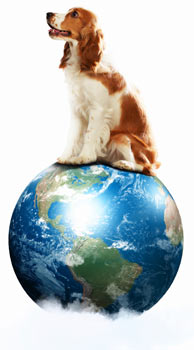 Earth Day, April 22, has been observed since 1970. It is a great time to consider your individual impact on our planet and how it can be minimized. Caring for a dog comes with unique environmental concerns. Here are some ideas of ways to green-up your dog-care routine, just in time for Earth Day.
Use Biodegradable Poop Bags. Cleaning up after your pet is a must. Leaving your dog's feces where she puts it can result in contamination of nearby areas with bacteria, the attraction of pests, and the spread of parasites. Using biodegradable bags for picking up and disposing of your dog's waste will help decrease the use of planet-unfriendly plastics.
Donate Old Toys, Blankets, Towels, and Unneeded food. Instead of throwing out any extra or old dog-care items, blankets, or towels that you may find when you do your spring cleaning, drop them off at an animal shelter. These places care for large numbers of dogs and are always in need of such things.
Walk More with Your Dog. Whenever possible, forgo the car for a nice walk with your dog. If you live close enough to the dog park, a hiking trail, or the pet store, your dog and the environment would appreciate it if you left the car at home.
Use Earth-Friendly Dog Shampoos and Mess Cleaners. When your dog needs a bath, choose a natural, biodegradable product without chemicals. If your pet makes a mess in the house and you're reaching for a cleaner that contains harsh chemicals that are harmful to the environment, consider using a more earth-friendly option.
Buy Toys Made From Recycled Materials. Dogs need toys to stay physically and mentally active and healthy. If you have to purchase new dog toys, look for ones made of recycled materials. Some great ones are Zisc, Tizzi, and Hurley.
Brush Your Dog Outside. When your furry beast needs a brushing in the springtime, consider doing it outside. Leave the bits of fur on the lawn. Birds will quickly come by and collect it to help build their nests. This will save the electricity for vacuuming or the plastic bag for the collecting the fur.
Spay or Neuter Your Dog. Making sure that your pet doesn't contribute to the problem of dog overpopulation is a great way to help protect the environment and also decrease animal suffering. You can learn more here: "Dog Neutering: Is Earlier Better?"
Adopt! Adopting a dog from a shelter instead of buying one from a breeder is a perfect way to "recycle." You're providing a loving home for a dog that is already here needing one.
These are just some of the ways that you and your dog can decrease your impact on the planet. Use Earth Day to consider how you can implement these into your year-round lifestyle and to think of and share more planet-positive ideas.
You May Also Like These Articles:
Minding Your P's and Q's At The Dog Park
The Yellow Dog Project: What Does the Yellow Ribbon Mean?
How to Introduce Dogs and Children
Street Kiosks Care for the Planet and Stray Dogs in Istanbul: A VIDEO
Service Dogs Can Help Autistic Children: VIDEO
Dogs Make the Best Matchmakers
Notice: Ask-a-Vet is an affiliated service for those who wish to speak with a veterinary professional about their pet's specific condition. Initially, a bot will ask questions to determine the general nature of your concern. Then, you will be transferred to a human. There is a charge for the service if you choose to connect to a veterinarian. Ask-a-Vet is not manned by the staff or owners of DogHealth.com, and the advice given should not delay or replace a visit to your veterinarian.